Jurassic World: Dominion Dominates Fandom Wikis - The Loop
Play Sound
Stephanie is the deuteragonist in Seasons 1, 2, and Extra and the main protagonist in Seasons 3 and 4 of LazyTown.
Description
Stephanie is a sweet, optimistic girl who's just moved here to live with her uncle (the Mayor of LazyTown). She's our audience's point of entry - the new arrival, a stranger who's trying to figure out this new place and its crazy ways. Sympathetic and curious, Stephanie likes her new town; it's weird but fun. She's an aspiring dancer, so she appreciates the fantastic moves that Sportacus performs.
Because she wasn't raised in LazyTown, Stephanie doesn't struggle with basic health issues like the other kids. Instead, she's trying to figure out how to stay true to what feels right for her while surrounded by the unhealthy behaviors of her new friends.
Stephanie is positive, curious, affable, and able to learn from her mistakes. She sees her life as a grand adventure. One where she can try new things, makes new friends, and sometimes hangs out with a hero! Hey, even when the chips are down, she holds to her motto: "There's always a way!" — LazyTown.com
Looks
Stephanie wears a dress with pink stripes, which are different shades of pink. She also wears pink sneakers and has several pink bracelets on her right wrist. She also wears a dark pink headband with silver sequins and pink socks (and in Energy Book, pink leggings). Besides pink clothing, Stephanie has bright pink hair, which is in the classic bob style. She also has fair skin and brown eyes. Every now and then, Stephanie will change her outfit, but almost all of her outfits are pink. Sometimes Stephanie will wear a light pink hooded sweatshirt with her name across the front in stylized purple lettering.
Personality
Stephanie is bubbly, optimistic, friendly, and always has a smile ready. She is easy to get along with, and has lots of energy. Stephanie isn't without her flaws, though. At times she can have trouble with making the best decision, but Sportacus is usually there to help her make the right choice. Some of Stephanie's favourite things to do are dancing, singing, playing sports, and hanging out with her friends, especially Sportacus.
Appearances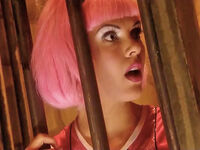 Stephanie appears in every episode of LazyTown, with the exception of "Pixelspix" (not counting the clips). Her debut was in "Welcome to LazyTown" and her last appearance was in "Mystery of the Pyramid". She also appears in the following LazyTown productions that are not part of the series:
"Unused footage with Wit Puppets in 1999-2000"
All episodes of LazyTown Extra
Performers
Primary performers:
Julianna Rose Mauriello: seasons 1-2
Chloe Lang: seasons 3-4
Other performers:
Trivia
Stephanie's Icelandic name is Solla Stirða, which translates to "Solla Inflexible".
Stephanie's concept name was Stiffanie/Stiffany Splitt.
The last name Sparkles also appeared in early concepts.
Stephanie's Icelandic name, Solla Stirða; translates to "Solla Inflexible".
When he created Stephanie/Solla, Magnús Scheving wanted her to have a color theme that reflected her characteristics and made her easily identifiable. He originally considered yellow, but after asking a few different girls about their favorite color, he decided on pink.
Stephanie's favourite colour is pink
Magnús Scheving stated that Stephanie is "half human, half puppet - or rather half make-believe."
Stephanie announces the title of each episode, except for the LazyTown Extra Episodes.
Stephanie is 8 years old.
Stephanie's full name is Stephanie Splitz.
A new dimension was added to Stephanie's character in seasons 3 and 4. She would put on a superhero mask and do superhero moves, such as Sportacus-level flips. This was probably derived from "LazyTown's New Superhero". This addition received generally negative feedback from audiences.
Gallery
Character art
Designs
Episode scenes