"Sleepless in LazyTown" is an episode in the first season of LazyTown.
Characters
Premise
"Pixel is staying up too late at night playing video games, and Sportacus encourages him to get to sleep on time, explaining that sleep is the source of his own energy. Robbie overhears this and hatches a plan to deprive Sportacus of sleep by changing the time on his clock. When Sportacus starts losing energy, Stephanie and the kids uncover Robbie's plot and they make sure to get lots of sleep so they can beat Robbie in an all-or-nothing baseball game."
Books
This episode's storyline was partially based upon Magnús Scheving's 1999 book Maggi Mjói: Borðar Ekki Mat. Both the book and the episode focus on a LazyTown child being told by Sportacus to get more sleep. The book focuses on Jives; the episode substitutes Jives for Pixel.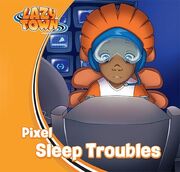 Two books based on this episode were released after its premiere. The first was released in 2006, published by Simon Spotlight and Nick Jr. It was illustrated by Artful Doodlers. The second was released in 2013. Titled Pixel: Sleep Troubles, it was an ebook illustrated by Katherine Burnett and an updated version of the book Maggi Mjói: Borðar Ekki Mat. Some of its pages very closely resemble those in the original book.
Trivia