About LazyTown Wiki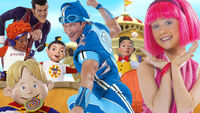 LazyTown is an Icelandic television show created by Magnús Scheving for Nickelodeon. The series stars Stephanie, a young girl who has just moved to a community called LazyTown to live with her uncle, Mayor Meanswell. There, she meets a group of friends—Ziggy, Trixie, Pixel and Stingy—who do not know how to lead healthy lifestyles. With the help of a superhero named Sportacus, Stephanie helps to teach everyone in LazyTown how to be active and happy. Read more
LazyTown Cast
Click on a character to visit their page!
Mayor Milford Meanswell is one of the main characters in LazyTown. He is Stephanie's scatterbrained but well-meaning uncle.
Description: Mayor Meanswell is a passionate advocate of LazyTown, loving everything about it. He loves that it's the laziest place on Earth. He loves that the town has its very own health hero who is the sworn enemy of laziness. And he loves that the hero has a nemesis! How can one man be in favor of all these contradictory things? Well, he is a politician, after all.
Looks: The Mayor has tan skin, brown eyes, and thinning gray hair. He usually wears a light orange business suit over a plaid sweater-vest and a white shirt with a collar and a tie. He also sports brown shoes and socks with red stripes.
Appearances: The Mayor appears in many episodes of LazyTown. His debut was in "Welcome to LazyTown" and his final appearance was in the second-to-last episode, "Robbie's Dream Team". Footage of him and Bessie dancing during the final episode was recorded and they originally had a large role in the episode, but this ended up being cut.
"LazyTown Goes Digital" is an episode from the second season.
Summary: The Mayor wants to modernize the town. Pixel is convinced technology can cure anything, but Robbie uses this perfect opportunity to disguise himself as a technician to keep the kids busy (and lazy) with the new technology.
Featured Media
Related Wikis
Check out these other Nick Jr. wikis!
Featured Picture
Featured Quote
"You can't do this to people, Pixel, because people are people! And I'm a people person, so I should know!" — Ziggy
Cast Birthdays
Cast Member
Birthday
Julianna Rose Mauriello
(Stephanie)
May 26
Sarah Burgess
(Trixie)
June 7
Guðmundur Þór Kárason
(Ziggy)
June 14
Stefán Karl
(Robbie)
July 10
Julie Westwood
(Bessie)
October 21
Magnús Scheving
(Sportacus)
November 10
Chloe Lang
(Stephanie)
November 14
Kobie Powell
(Pixel)
November 26
Jodi Eichelberger
(Stingy)
December 24