"Happy Brush Day" is an episode in the first season of LazyTown.
Characters
Premise
"It's Ziggy's birthday and all he wants is taffy. When Sportacus' gift, a brand-new toothbrush, is discarded for a super-automated voice-activated taffy shooter (given to him by a disguised Robbie), trouble ensues. Ziggy eats so much taffy that his mouth is glued shut with candy and he can't tell the machine to stop! LazyTown is drowning in taffy. Ziggy must use his new toothbrush to save the day, but it's at the bottom of a sea of candy!"
Trivia
This episode was written prior to the production of the show's unaired pilot. A scene from the episode, in which Sportacus gives Ziggy his toothbrush, was filmed as part of the pilot reel. This scene featured Shelby Young as Stephanie and included early versions of the Ziggy and Pixel puppets.
This is the first of two episodes to focus on Ziggy's birthday. The second is "The Greatest Gift" from the third season.
Robbie's disguise from this episode, the Birthday Fairy, was seen in his lair in "Sleepless in LazyTown".
Book adaptation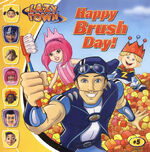 In 2007, Simon Spotlight and Nick Jr. released a book based on this episode, titled Happy Brush Day!. It was adapted by Justin Spelvin and illustrated by Tino Santanach.